Introduction
Smart Door Statistics: The reports say that the Smart Door is such a door that has a high-quality built-in smart lock, video doorbell, biometric sensor, Wi-Fi, Bluetooth, and LED welcome lights. Thus according to the reports of Mordor Intelligence, it is predicted that by the end of 2023 the worldwide market size of the Smart Lock Market around $2.43 billion and according to the research of Future Market Size, the global market share is expected to be $7.3 billion by the end of 2033 with a CAGR of 14.9% from 2023 to 2033. Advancement of technology has made these things possible and this Smart Door Statistics include possible insights that are available that will provide light on the importance of smart doors in modern situations.
Editor's Choice
A smart lock is an important technology that makes a door smart as it promotes effective security and convenience.
Smart doors are possible because of the implementation of advanced technologies such as Machine Learning (ML), Artificial Intelligence (AI), and the Internet of Things (IoT).
Smart doors allow access control to homes and properties along with eliminating the need for physical keys as they include advanced security features such as two-factor authentication, tamper detection, and encryption that is hard to break or hack by thieves.
According to the report of the Insight partners, the Smart Door Lock market size is going to be $2,733.05 million by the end of 2023 and $6,309.13 million by 2028 with a CAGR of 18.2%.
On the other side according to the research of Fortune Business Insights, the global market size of smart door locks is expected to be $2.49 billion by 2023 and $8.21 billion by 2030 with a CAGR of 18.6%.
As per the research of Global News Wire, the global revenue generated by biometric sensors is expected to be $1.6 billion by the end of 2023.
Different types of sensors used in smart doors are PIR motion sensors, Image sensors, biometrics, Cameras, Metal detectors, and Audio modules for speakers and MIC.
According to the reports of Mordor Intelligence, in the United States smart doors will be available in more than 12 million homes in 2023.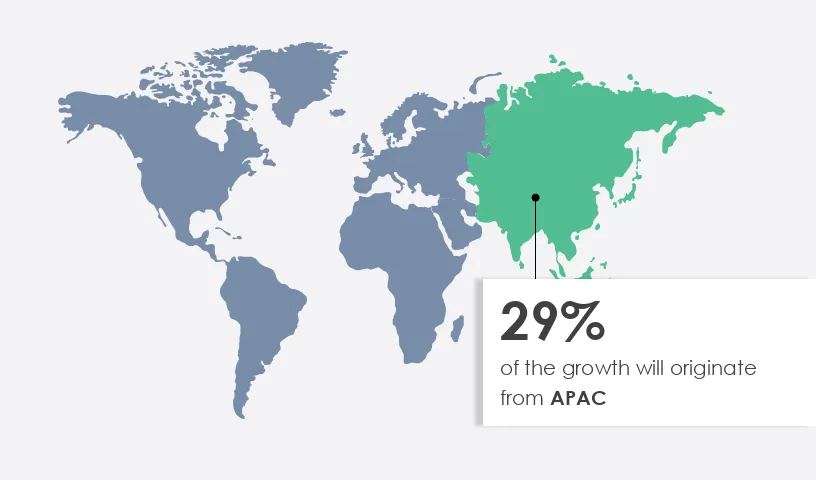 (Source: technavio.com)
The Automatic Doors Market growth in 2023 is expected to be $7,390.33 million with a CAGR of 6.75% from 2023 to 2027.
According to the reports of Technovio, by the end of 2027, the growth of the automated door market will be highest in the region of Asian Pacific region by 29.4% market share.
Benefits of Smart Doors
Smart doors include numerous benefits such as enabling easy access when installing smart locks on doors because these locks include a number panel, fingerprint, and smartphone application to unlock doors.
Other advantages are getting notifications about doors, creating e-keys instead of duplicate keys, enhancing the home security system, enabling remote access, and allowing home automation.
The last but most important benefit is keeping effective tracking of home while people are on vacation.
Smart Door Statistics by Segments
By Digital Door Lock System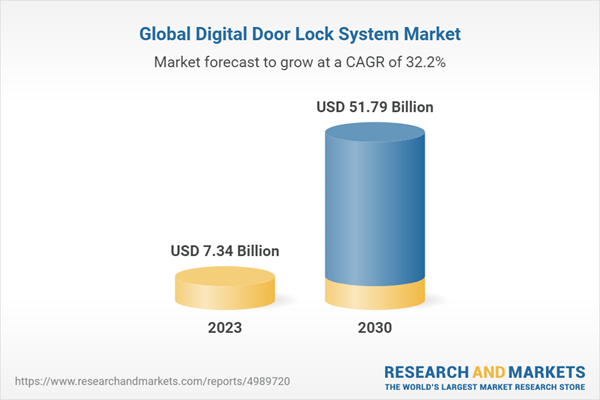 (Source: globenewswire.com)
According to Research and Markets reports, the global market size of digital door lock systems is predicted to be $7.34 billion.
On the other side, the predicted growth at a CAGR of 32.15% by 2023 with a market size of $51.79 billion.
Types of Smart door locks mostly used around the world are Electronic Cipher locks, Wi-Fi locks, Fingerprint locks, Bluetooth low energy locks, and Z-wave locks.
As of 2023, the largest manufacturers are ASSA ABLOY, Allegion, Dormakaba Group, Spectrum Brands, Master Lock, MIWA Lock, Samsung, etc
By Biometric Sensors Market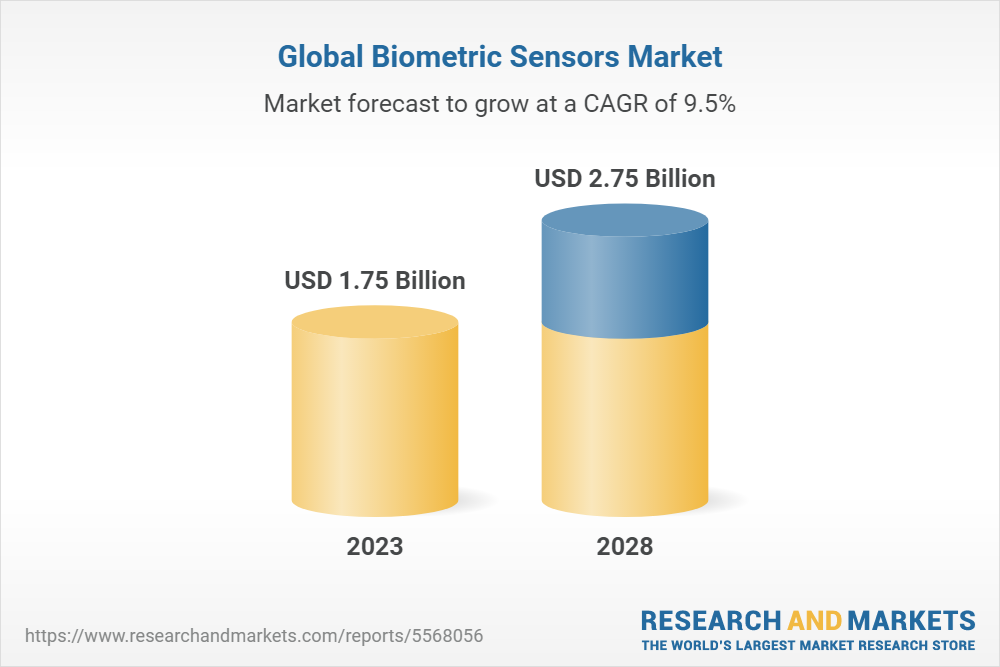 (Source: researchandmarkets.com)
According to reports, the estimated global market size of Biometric Sensors in 2023 will be $1.75 billion and by the end of 2028, it will grow by $2.75 billion with a CAGR of 9.47%.
They are mostly used in doors of commercial office buildings, defense and security departments, medical centers, and research laboratories.
There are 5 different types of biometrics fingerprints, facial, voice, iris, and palm or finger vein patterns.
By Doorbell Market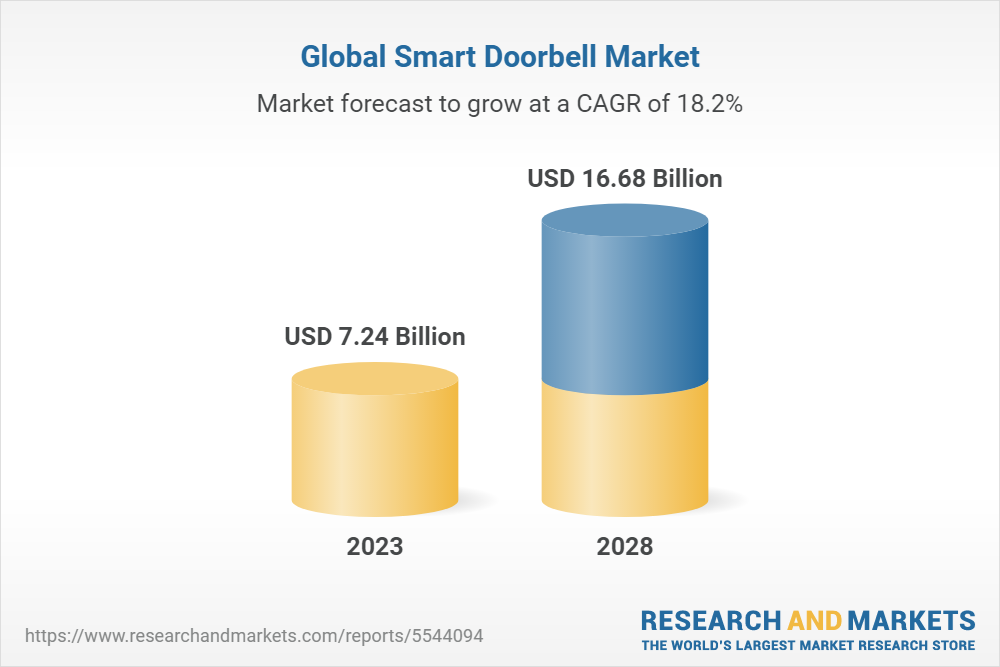 (Source: researchandmarkets.com)
The global market share of the smart doorbell by 2023 is expected to be $7.24 billion and by the end of 2028, the market value is supposed to be $16.68 billion with a CAGR OF 18.2%.
Smart doorbells when implemented in doors allow users to use apps within Smartphones so that they can watch and talk with visitors before entering inside.
by Technology Usage
The most used security device in the smart door is a Multi-point locking system locks with 44% of the share.
Other shares are followed by Burglar alarms (29%), Safety Chain (26%), CCTV (21%), and Video doorbells (20%).
by the Usage of Doorbells
As of 2023, mostly young people between the ages of 18 to 34 years have already implemented video doorbells to make their doors smart.
On the other side people aged between 35 years to 54 years used video doorbells by 24% and above 55 years people used by 13% for enabling the impact of smart door.
Video doorbell usage within different areas in 2023 is followed by South East (25%), Wales (24%), London (24%), East Mids (24%), East (22%), Yorkshire/Humberside (19%), West Mids (18%), South West (18%), North East (18%), Scotland (14%), North West (13%), and North Ireland (13%).
by Sensors
An automatic door is a feature of a smart door and the sensors used in this type of door are radar movement sensors, pressure sensors, optical sensors or motion sensors, passive infrared sensors, and active infrared sensors.
Radar Movement Sensors: They mostly allow in detection of objects that are near the door or signify the direction of movement. According to Expert Market Research, the market value in 2023 is expected to be $16.25 billion.
Pressure Sensor: This detects the pressure of any person or object over the door and signals the door to open. In 2023, the global market size is expected to reach around $16.66 billion.
Optical Sensors or Motion Sensors: These are termed as most modern types of sensors and used in recent years. Such sensors allow for opening doors when they detect something or someone is moving near to door and are installed on the top sides of the doors. The global market value of optical sensors will be around $23,360.10 million by the end of 2023.
Passive infrared sensors: These sensors are made up of advanced infrared technology for detecting images of the person or objects. Thus, when the signal changes sensor receives signals and the door opens and closes. The Compound Annual Growth Rate of the global market is going to increase by 13.10% from 2023 to 2028.
Conclusion
As of today, after completing the article on Smart Door Statistics it can be stated that the usage of smart doors is growing enormously over the world. However, there is no specific current market value is available thus collecting all different segment's market share of smart applications used in making smart doors. Around the world, the North American region will have the highest share of smart door usage in 2023. These articles also include several other statistics about the smart door industry and their usage in different areas, hope the overall research will be beneficial for understanding the topic better.