Sure, you mountain bike, snowboard, rock climb, fish, play chess, and drive formula 1, (this means you Coulthard!)
I'm sure you always wanted to bring back those living images of greatness when you jumped, landed, caught, or checkmated all your opponents in living color.
Now it's possible for a reasonable sum of money! (that's different than paying for the lipstick cameras that adorn F1 cars that cost a tad more than $100). Thanks to the ATC-2000 Action Camera from Oregon Scientific. A special thanks to the big guy over at Fat Cyclist, (his words not mine) for letting me in on the secret.
The Action camera is just what the typical adrenaline (and bbq salmon teriyaki) fiend is looking for.  Durability. Did I mention durability?  Yeah, cause I break stuff and I know you do too! As far as frame rate, you only get 15fps, which is more than fast enough to capture sports that require you to see what you're doing.  Just don't go play that Tron-lightcycles game, man that is hard to follow on video!

Simplicity, just pop in your garden variety SD card, it comes with a 32Mb card, but they say if you get a 2Gb card it'll hold about two hours.  At that point you'll likely want to take a nap of some sort and that'll be a perfect time to put new batteries in as well.  It only needs two AA batteries, and they'll likely last a number of hours before you need to swap them out (however, you do have Ni-mh rechargeables don't you!?)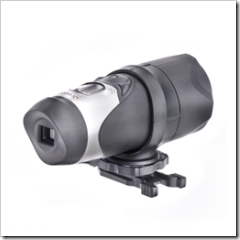 It exports in Pal or NTSC so whatever side of the pond you're on, you needn't worry.
There are a bunch of mounting options, and well, we should really think about those:
helmet
rollcage
handlebars
snowboard
airbox (f1 car)
rod (fishing)
barrel (skeet shooting)
finger (chess)
puck
mallard (hunting,, from the prey's view)
These are just a few of the great uses for a camera like this.  Plus, if all those aren't enough good reasons to go out and get a great little tiny camera,, just think of using it to scare your little sister and record it.  That got you didn't it.